We offer a range of Massage Therapy options to suit your needs including Relaxation, Remedial and Pregnancy Massage.
'Relax, Unwind, Recover'
Relaxation Massage
Our bodies need opportunities to repair and recover in order to perform to their best potential. However, in our modern, fast paced lives we often forget about this. Take some much needed time out to recover from the stresses of daily life, and enjoy the many benefits of a Relaxation Massage at physioFIX Holland Park.
Relaxation Massage is a great way to give your body the special attention it needs to relax and repair itself and when done regularly can help to maintain health and well-being.
What is Relaxation Massage?
Relaxation massage enhances and maintains the normal functioning of the body by soothing soft tissue and encouraging relaxation. A relaxed body that is in optimum condition is better able to ward off the development of injury and illness. Relaxation massage involves long flowing strokes and some gentle but deeper techniques, to increase circulation and relieve tension.
What are the benefits of Relaxation massage?
Relaxation Massage can be beneficial for anyone, engendering a sense of calmness and relaxation. Massage prompts endorphin release, in turn producing a feeling of well-being and decreased stress. Studies indicate that high levels of stress hormones impair the immune system which can lead to ongoing sickness and disease. Other benefits include:
Generalised stress reduction
A decrease in muscle tension
Symptomatic relief of pain related to soft tissue dysfunction
Improved circulation and stimulation of the lymphatic system
Reduction of stress hormones
Improved skin tone
Reduced anxiety and depression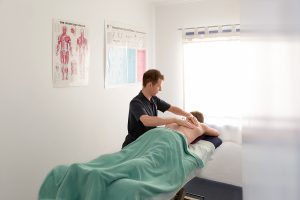 Remedial Massage
Remedial massage is generally used to address and treat specific soft tissue problems associated with chronic muscular pain, injury rehabilitation, sporting and occupational injuries, RSI and physical and mental fatigue.
Techniques can include trigger point therapy, deep tissue massage, sports massage techniques, mobilisation, dry needling, cupping, myofascial release and stretching.
What is Remedial Massage?
Remedial massage focuses on the soft tissues of the body and can include both the superficial and deeper layers of muscle tissue. It aims to release the chronic patterns of tension in the body, through a variety of strokes and deep pressure on the contracted areas, by either following or crossing over the muscle fibres, fascia and tendons.
Remedial massage aims to address the cause of pain or dysfunction, in addition to symptom relief. As such an assessment may be carried out before and after the massage to determine the best course of treatment for individual patients and to monitor the treatment's effectiveness.
What are the benefits of Remedial Massage?
Some of the benefits of remedial massage include:
Increased range of movement
Relief from pain and tightness
A reduction in muscle tension
Improved circulation which aids in the removal of toxins
Stimulation of the lymphatic system
Relaxation and a reduction in stress
Pregnancy Massage
Pregnancy massage is a great way to reduce stress and promote general health and well being for the expectant mum. Suitable for any stage of pregnancy provided the pregnancy is low risk. Please note that a written release from your treating doctor is required for high risk pregnancies.
Pregnancy massage can help reduce musculoskeletal pain, improve movement, decrease swelling, improve circulation, promote relaxation and improve sleep. Pregnancy massage is often performed in a side lying position, typically the best position for mum and baby, particularly in the later stages.
All of our Remedial Massage Therapists are fully qualified, insured and registered with the appropriate Massage Therapy associations.
Bookings are available during the week from Monday til Friday with some late appointments offered on Monday, Tuesday, Wednesday and Thursday evenings.
What is the cost involved?
90 Minute Massage $119.00
60 Minute Massage $89.00
30 Minute Massage $64.00
$5 Off for Pension/Concession
** Gift Vouchers available
Can I claim through my Private Health Fund?
Yes, provided you have Remedial Massage Therapy as part of your cover.
*Please note that Naomi Bell is not registered with HCF.
Meet our Qualified Remedial Massage Therapists
Like to make an appointment with one of our Remedial Massage Therapists?
Contact us on 07 3349 1554 today or visit us at physioFIX Holland Park.