Physiotherapy Exercise Classes and Clinical Pilates

for increased strength, improved posture, greater range of movement and better core strength!

Are you:
Suffering from a sporting injury, back or neck pain?
Pregnant or post natal?
Just looking for a fun way to improve your strength, toning and posture?
Needing to improve your core strength
physioFIX Clinical Pilates is the answer.
At physioFIX Holland Park, we offer personal Clinical Pilates assessments and equipment based studio sessions for people of all ages, shapes, sizes and levels of fitness.  It's also a great and safe way for both pregnant women and new mums to get back into fitness and movement whilst building confidence and strength. With a strong focus on the core abdominal muscles that support your spine our sessions are designed to increase your strength, improve your posture, give you greater range of movement and keep your body balanced.
You will tone, strengthen and stretch every muscle for a full body workout in a fun, friendly and safe environment. Our experienced and knowledgeable Physiotherapy Pilates Instructors will assess you one on one and guide you through the basics in your own private initial classes before moving into the group sessions. Whilst the group sessions are made up of a maximum of 4 people, your session will still be tailored specifically for you!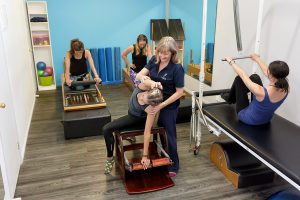 How to get started with Clinical Pilates in 3 easy Steps:
---
Step 1: Initial Pilates Assessment (required prior to all sessions)
A 1/2 hour One-on-One assessment with a Physiotherapy Pilates Instructor at our Holland Park centre. We'll assess your strengths and weaknesses, focus on specific areas you would like to work on, and discuss any goals you hope to achieve.
Cost: $89.00
Step 2: 2 x One on One Studio Sessions (required prior to group sessions)
2 x 30 minute One-on-One Studio Sessions with a Physiotherapist
Put your Initial Pilates Assessment into action with the expert guidance of a Physiotherapist Pilates Instructor to get you started on the right track. These 2 guided half hr sessions help to familiarise you with the Pilates equipment and to master the basic techniques of core activation before moving on to the 1 hour group sessions.
Cost: $83 per session
Step 3: 1 hour Studio Sessions
***You will be able to claim some of our classes with your Private Health Fund. These classes are marked with *PHC.
After completing your two 30 minute one on one sessions (as mentioned above) you will have the basics of Pilates under control. We now put your individually designed program into action, using the specialised Pilates equipment. The personalised attention will continue with never more than 3-4 people in each session.
When you attend seven sessions, you get your eighth one FREE! *PHC sessions only
Cost: $52 with Senior Physiotherapist *PHC, $50 with Physiotherapists *PHC or $32 for non claimable sessions with our Qualified Pilates Instructors
Meet our highly qualified Physiotherapists and Pilates Instructors
Like to know more about physioFIX Clinical Pilates services?
Contact us on 07 3349 1554 today.